This is for my Never Trump peeps.
How much have you thought about Martin O' Malley in the last year? You probably barely thought about him while he was running for the Democratic nomination, much less any thought to him since he dropped out.
I hope that brings some perspective to what Bernie Sanders and his revolution accomplished. Y'all, we weren't supposed to even remember his name. He was supposed to be that Jewish guy that ran against Hillary.
I always think about this piece from a story about Jane Sanders getting on board with the idea for running for president:
When Bernie Sanders first broached the idea of running for president, Jane Sanders was not initially on board.

"First I said, 'How can you win? We're from a small state,' " she recalled. "I know the issues are important, but isn't there another way for these issues to be discussed? I kept on saying, 'Can't you write a book? Can't you start an organization? Can't you do a speaking tour?' And he kept on saying, 'Yes, I can do all those things, and it's not going to matter at all. It's not going to change the conversation.' "
Bernie didn't get in this race to win (I mean, he did, but he knew what he was up against). He got in this race so that WE THE PEOPLE would start talking. And not talking about emails or who spent more money in which state or how many wives someone has, but talking about issues.
He wanted to get the country we love to talk about income inequality. To talk about the universal right to healthcare. To talk about trade that killed American incomes. To talk about how it's not ok to let Wal-mart pay single moms $7 an hour and then shame them when they need food stamps to feed their babies. To talk about wars that we didn't need to be in. To talk about corporatism. To talk about climate change solutions so our kids will have a planet to call home.
He changed the conversation. And if we play this right, the conversation stays here until it gets answers for all of the above.
Bernie won a lot of people's hearts. And now he's asking us to give those hearts to Hillary. Yes, I feel like a little kid getting dropped off at day care for the first time: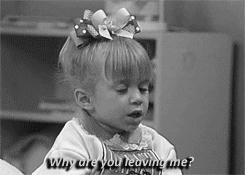 Do I trust Hillary? You want the truth? Nope. Not really. But I am the queen of a reframe, so let's dive in…
What if Hillary looked a lot like Bernie on the day she became the First Lady? What if she believed in universal healthcare and being more than a FLOTUS that read books to kindergartners? What if she really wanted to shake the system up?
But then the Establishment happened. And healthcare for all was a failure. And maybe she didn't quit believing in the progressive stuff, but she quit wearing her heart on her sleeve.
First things first. In my opinion, Bernie's purity is a sign of his privilege. He's a white man that can say a lot of crazy things ("Hey, Alan Greenspan, you're destroying America") and still get elected to office. I don't believe women have that privilege. Even First Ladies turned Senators turned Secretaries of State. We don't get to wear our hearts or our opinions so freely.
Hillary played the game. That's why we are afraid of her. That's why we hate her. She became one of Them.
Sharp left turn coming up.
I watched the Jaycee Dugard story a couple of nights ago on 20/20. That woman is amazing. She was held hostage for 18 years by an insane couple. She goes around telling professionals that they need to stop it with the Stockholm Syndrome thing. She argues that you aren't "falling in love" with your captor, you're doing what you have to do to survive. She referenced this YouTube video to show what it looks like to pretend to be dead in order to survive:
What if Hillary isn't the Establishment? What if she has survived the Establishment? What if she's been playing 'dead' and now that we've finally caught up as a country she can bounce back to life and be a true part of the progressive Dream Team WITH Warren and Sanders? What if they didn't push her Left? What if she's simply been waiting?
Maybe Hillary has been guarded for 30 years, believing that she couldn't be progressive because that one time she tried it failed miserably. Maybe she's scared to believe she can let her progressive freak flag wave. Maybe she can't wait to be the nerdy, know-it-all, get-crap-done, Progressive Queen she has wanted to be since 1992.
Maybe.
I really don't know.
But I do know that the current narrative that #BernieOrBust-ers are going to hand the election to Trump is wildly inaccurate. A lame campaign attempting to make everyone happy, coloring within the political lines of 1996, telling a story that's simply "Vote for 'Gina" because #woman, blaming an old man that was trying to decide between going on a book tour or run for president and accidentally started our generation's political revolution because he can't get his people 'in line', that is what will hand Donald Trump the White House.
The Clinton campaign has the perfect villain, now they just need to tell us the authentic & believable story of how the Secretary in Shining Armor saves the day.
*As a marriage therapist-type person, seeing a bunch of Democrats (not Progressives) tell emotional Bernie people to "quit being a baby" or "get over it and do what's right" is the exact same thing as a husband saying, "Are you really crying over this?" when he forgets your birthday. Yes, it hurts. Yes, we need time. And if you condescend to me or tell me to "get over it" I will poison your dinner. Watch yourself before you wreck yourself.