Dear Wren,
Seven months. Rolling towards the big Uno Yearo.
You're crawling and pulling yourself up and at this rate you'll probably win a Nobel Peace Prize before you hit puberty. Even at 7 months old, I would say that you aren't one for wasting time. You don't have words, but if you did you wouldn't mince them. You get straight to the point with your grunts and stares and, well, it's impressive.
Little Bird, you're truly Wonder Woman in my book.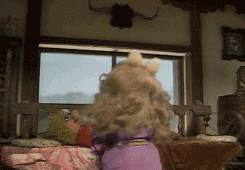 (You also love pigs, hence Miss Piggy)
A while ago there was a viral 'thing' about this couple taking pics like this together as they traveled the world:
That's how I feel about you. You're always out in front. Exploring. Looking for the next thing to experience, put in your mouth, learn, squeal over. And I'm standing behind you, watching you take this beautiful mess of a world in.
I want so badly to capture your spirit in a bottle so that I can remind you of your fearlessness, your power, your ability to do hard things (the coordination required for crawling is no small feat, my dear!) when you forget one day in the future. You're a special little girl, Wren, and I've known it since before you were even born.
Love you and thank you so much for taking me on this adventure with you!
Mama Bird