I've started describing myself as a weird Christian. Because if I just say I'm a Christian then you're going to think I'm like the Christians you hear about on MSNBC or Fox, and I'm not like those.
I can't express how seriously I take God. I believe the things most Christian professing people believe (He made everything in the universe, there's a spiritual battle going on, Jesus is God and died on the cross for my sins, the Holy Spirit is real), but then I believe other things.
Like that He speaks to me. Regularly. And my job is to listen. Is it very Pocahontas/Colors of The Wind? Yes. Yes, it is.
If you follow me on Instagram you may remember when I was doing those Jesus work outs with Megan and Rev Wellness. What's a Jesus workout? Basically, Megan would have scripture and questions for me to consider and meditate on while also telling me to do 10 squats. These were some of the most intense, life changing workout sessions in my life. One session in particular stuck with me…
I was on my back doing some exercise and the whole session had been about being able to hand everything over to God and trust Him with every dream in me. To love the Giver more than the gift. So I'm on my back doing this exercise and Megan says something about being like Moses and being ok with not seeing the promised land.
Immediately I knew what the promised land was. Nashville Sudbury School. If you aren't following me on Facebook then quick recap: me and 7 other families started a school so that kids could practice self-directed education in a democratically run community. Our first meeting was in the fall of 2015. We've been at it for a minute.
Getting this school up and running was my everything from March 2017 to June 2018. MY EVERYTHING. I spent lunch breaks running all around Nashville touring any place that might be even a little appropriate for a school.  I USED A PHONE AND TALKED TO STRANGERS in order to find out what paperwork needed to be turned in and when to start a private school in Tennessee. The other day I got a catalog of courses a fire protection professional could take to stay up to date on fire codes in my mailbox because that's how often I was googling the codes manual for educational institutions. I CALLED AN IRS AGENT.
And I was doing all of this for my kids. My little boy isn't designed for school. And my little girl might burn it down (fire codes be damned!). All of this work was because I wanted to give my kids a place to be free.
My stomach tightened at the idea of handing over NSS. I couldn't possibly do all of this just to not be a part of it on the other side…could I? Would God seriously ask that? My brain really couldn't imagine it. Honestly, it reminded me of when I broke up with my high school/college boyfriend, walking away from something you had worked really hard to build for no real reason?
The minute the lease was signed I knew something changed for me on a deep, cellular, spiritual level. This school needed to be built, but it wasn't where we needed to be any longer. I heard God whispering that it wasn't what was planned for us, but I fought the whispers back because what about my sweet boy? Where else could he go, I argued…
Two weeks later I met up with a friend I had made during the Sudbury stuff, Catherine. She went to Christ Lutheran, one of the churches we considered renting from, and was a passionate supporter of  self-directed education. We really only knew each other a little bit. She came to tour a space with us and came to a founders' meeting. I liked her and felt a kindred spirit with her because the Venn diagram of Christians + Sudbury is pretty small, but that was pretty much it.
When we got together I immediately start blabbing about NSS updates because I assumed that was why she wanted to get together, to talk Sudbury. So we did that for a minute and then she was like, "I asked you to meet because I think you might be a weird Christian, too. And I wanted a friend to talk with about God stuff…"
We spent the rest of our time sharing how seriously we take God, His word, His salvation (big and small), and His unending ability to meet us wherever we are. This is semi-unrelated, but this summer was also the exodus of some of my fiercest prayer friends so the birth of this friendship was giving me all the "God takes care of all your needs" feels.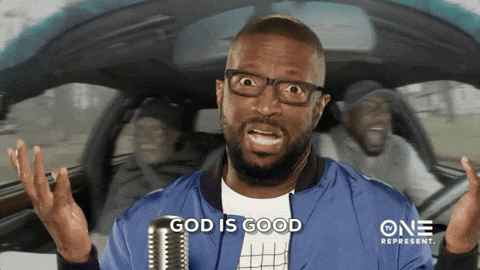 I even asked if I could take a snapshot of where God suggested me as an answer to her Psalm 145:11 prayers.
"Can I take a pic of your journal?" I am so weird.
Fast forward to June. God quits whispering. He starts using His inside voice. We pray. A lot. Because this isn't about starting a school for me. This has always been about my kids. And walking away from this wasn't God asking me to walk away from something I could put on my resume ("Marie Starter of Schools!"). He was asking me to walk away from something I have a lot of faith and hope in to help my babies, specifically my little guy. To say this was gut wrenching doesn't begin to cover it.
But here's my clue to knowing a decision has God's hand on it: Peace. My spirit is settled even if none of it 'makes sense' on paper. The minute my spirit settles and rests in the confidence of my Father in heaven, I usually don't think twice. I start moving towards His leading.
So we did. We walked away. We went on vacation. We caught our breath just long enough to hear God invite us to something new with my weird friend Catherine and Christ Lutheran, Simply Sudbury.
Last week, NSS passed their fire marshal inspection. And I wasn't there for it. I didn't get the "Congratulations! We did it!" email because, well, I am not part of the we any longer. The reality of not being in the Promised Land despite having witnessed all of the burning bushes and Red Sea partings gave me some feels, but it didn't put even a tiny dent in my peace or even my joy. As I watched Instastories of their fire marshal inspection I cried real tears of joy on my side of the Jordan River*. Because He's good. So very, very good.
Do I think God is in this? Yes. It has all the Color of the Wind vibes for me.
Does that mean I have any idea how the rest of this will turn out? Nope. Not a damn clue.
*Is it the Jordan they crossed? I am totally relying on a Ginny Owens lyric so that could not be Biblically correct so…